PHUKET, THAILAND (May 2021) – Discover an interactive dining experience at Mizu, a contemporary Teppanyaki restaurant and incredible new addition to Phuket's thriving dining scene. Savor the unforgettable flavors of premium grilled meats and sustainably sourced seafood prepared with culinary mastery and Teppanyaki flair in the contemporary setting of Mizu, located poolside at the oceanfront Hyatt Regency Resort.
Dining at Mizu begins with an element of intrigue and mystery as guests are welcomed to the specialty Teppanyaki restaurant with a taste of premium Japanese sake and a calligraphy painting activity which reveals an individual, secret message to each and every guest upon seating. The Amuse Bouche is served and then the multi-sensory dining experience truly begins.
Mizu boasts three diverse set menus which highlight authentic Japanese dishes and the very best of Teppanyaki cuisine. Guests can satiate their appetites on prime Wagyu beef and the freshest catches from the Andaman Sea prepared a la minute. Menu highlights include MB4-5 Australian Striploin and MB4+ Angus Tenderloin as well as perfectly prepared scallops, locally sourced Black Tiger Prawns, succulent crab and traditional Miso Soup. Vegetarians can delight in Marinated Japanese Tofu and the freshest selection of high quality produce and vegetables. Each set menu features an authentic Japanese dessert.
Sure to become a fast favorite on the Phuket culinary scene, Mizu guarantees a memorable dining experience. Sit back and relax with traditional Japanese beverages or a signature cocktail as a personal chef puts on a masterful culinary show prepared right before your eyes. The intimate dining experience at Mizu is equally interactive and entertaining and gives excitable insight into the creative theatrics Teppanyaki dining is so renowned for.
Mizu is open daily for dinner service from 6pm-8pm, and offers an A La Carte menu Fridays through Sundays from 12pm-3pm. Dress code is smart casual, and to ensure the best dining experience, reservations are highly recommended.
To learn more about Mizu or to book your table for this exciting dining experience, you may contact the hotel directly through at (+66) 76 231 234, or email fnb.phuhr@hyatt.com For further information, please visit www.experiencehyattphuket.com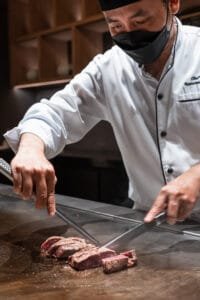 The ever-azure Andaman Sea always yearns to be explored. Let's look into the Phuket Diving [...]