Phuket Covid-19 Update
The safety and wellbeing of our guests and colleagues is always a top priority. In light of the fast-evolving COVID-19 situation, we have temporarily suspended normal hotel operations and are not currently accepting room, event, dining and spa reservations nor walk-ins for both domestic and international guests until 01st October 2021. For more details and the latest updates pertaining to COVID-19, please visit the Ministry of Health Website. For inquiries, please contact the hotel directly at +66 76 231 234 or your nearest Global Contact Center.
We are pleased to announce that Hyatt Regency Phuket Resort has officially gained SHA+ certification by Amazing Thailand Safety and Health Administration (SHA) demonstrating our hotel product and service readiness, vaccinated team and compliance with sanitation measures to prevent the spread of COVID-19.
In response to COVID-19, Hyatt Regency Phuket Resort has introduced enhanced measures for guests' safety and wellbeing and has successfully achieved GBAC STAR™accreditation from the Global Biorisk Advisory Council to ensure our hotel implements the strictest cleaning, disinfection and infectious disease prevention protocols. Please visit Hyatt's commitment to Caring for Your Wellbeing to learn more. Stay well and we hope to welcome you back to Hyatt Regency Phuket Resort soon!
Face masks – Required in hotel indoor public areas and when moving around in outdoor areas.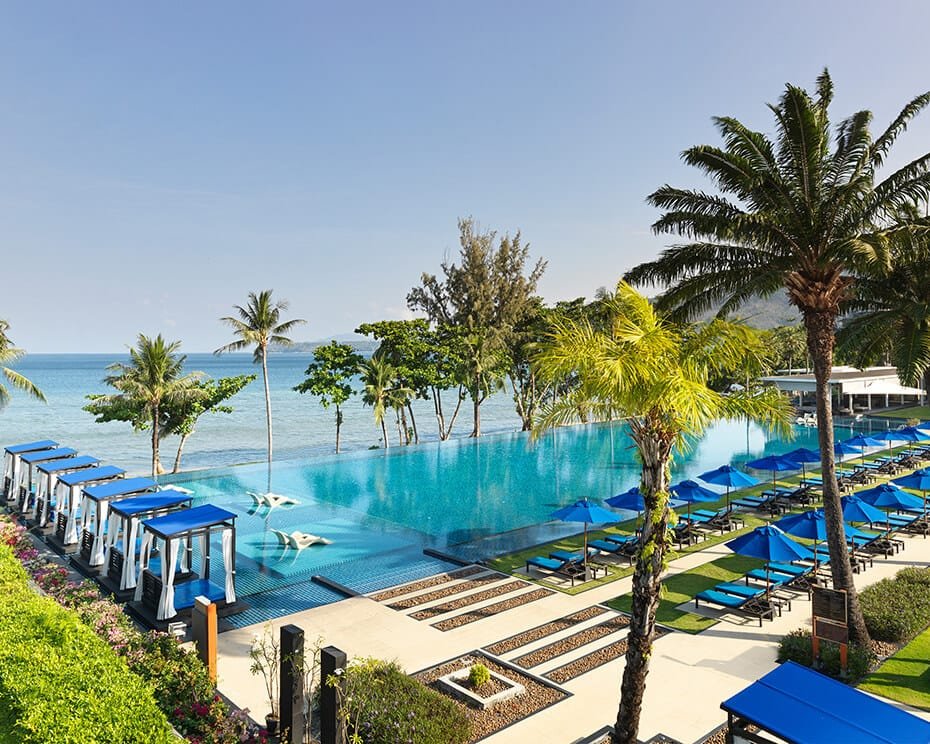 The New TEST & GO Rules in Phuket – Making Your Vacation Delightful
If there is one place that Thailand is proud to present to the rest of the world, that place is Phuket. This renowned travel destination is located in the southern part of the kingdom, which lies on the western side of the Andaman Sea. Of course, Phuket is famously known for its beaches and the fantastic adventures you can experience.
However, during the COVID-19 pandemic, there have been many rules and regulations implemented to make getaways in Phuket as safe as possible. Such as the Phuket sandbox hotels, Alternative Quarantine (AQ), and the latest TEST & GO program.
One of Hyatt Phuket Resort's highest priorities is welcoming you with safety and well-being in mind, so we are here to provide the latest update on the TEST & GO program to keep you informed and make your stay more pleasant than ever.
The New TEST & GO Update
For anyone looking to experience the perfect vacation or have a getaway in family resort Phuket here is good news for you:
Starting from April 1st, 2022, travelers under the following entry schemes: TEST & GO, Sandbox program, and Alternative Quarantine will be allowed to enter Thailand without providing a negative RT-PCR test within 72 hours of travel. Nevertheless, you ought to beware that certain airlines still require an RT-PCR test, such as travelers from Singapore, Japan, Qatar, or the UAE. So, be sure to review your airline regulations and meet their requirements before departure.
Even though the RT-PCR test is not necessary before arrival, those who enter the kingdom through the TEST & GO program will be subjected to an RT-PCR test on arrival (Day 1) and need to perform an antigen self-test on Day 5 after arrival.
As for anyone who booked Phuket sandbox hotels, the quarantine stay will be reduced to 5 nights instead of 7 nights. However, if you are already vaccinated, we recommend applying for Thailand Pass through the TEST & GO instead of the Sandbox program, so you would not have to spend your time in quarantine.
What is Required to Enter Thailand?
Due to the new entry scheme update of Test and Go Thailand, some may be confused or do not know which documents are necessary to enter the land of smiles. Here are the pre-arrival requirements, according to TEST & GO policy:
1. A Thailand Pass
You must provide all the necessary documents to apply for the pass, failure to do so may result in denied boarding. Please note that each Thailand Pass QR Code can be used only once.
Apply for a Thailand Pass: https://tp.consular.go.th/
2. Certificate of COVID-19 Vaccination/Recovery
All international travelers above the age of 18 who are traveling to Thailand under the TEST & GO and Sandbox entry schemes must be fully vaccinated, with a vaccine approved by the Ministry of Public Health (MoPH) or the World Health Organization (WHO) no less than 14 days before their travel date.
3. COVID-19 Travel Insurance
The insurance coverage must be no less than 20,000 USD for medical treatments in Thailand for the entire duration of the revised travel itinerary.
4. Proof of Prepayment for 1 Night of Accommodation
At government-approved hotels, such as a SHA+ certified hotel on Day 1 which should also include the expenses for 2 COVID-19 tests: an RT-PCR test upon arrival (Day 0-1) and an antigen self-test on Day 5.
All of the above is what you need to know about the Phuket TEST & GO updates, and the new entry schemes that have been implemented since April 1st. If you are planning to reside in a 5-star hotel in Phuket or if you are searching for a family resort in Phuket, look no further than Hyatt Regency Phuket Resort.
Hyatt Regency Phuket Resort
Hyatt Regency Phuket Resort is situated on a cascading hillside at Kamala Bay between Kamala and Patong beaches, overlooking the Andaman Sea. We offer a unique coastal escape experience that you cannot find anywhere else. Apart from the luxurious rooms, amenities, and facilities, we also offer experiential dining at renovated venues with Thai, Indian, Japanese & International cuisines for the whole family to enjoy, one of the biggest infinity pools in Phuket and many more curated experiences perfect for an escape.
Contact us
16/12 Moo. 6, Tambon Kamala, Phuket, Phuket, Thailand, 83150
Tel: +66 7623 1234
Fax: +66 76 231 233
phuket.regency@hyatt.com