Phuket is a tropical paradise that offers the perfect destination for couples planning their dream wedding. Its natural beauty, stunning beaches, and lush tropical forests make it one of the most romantic and picturesque destinations in the world. Phuket is also home to a diverse range of venues, from luxurious beachfront resorts to charming traditional Thai temples, offering couples a wide variety of choices for their wedding ceremony.
Our Phuket wedding planner guide will help you navigate the options and set up your special day in the best way.
What Makes Phuket The Perfect Wedding Destination?
The island's warm and hospitable locals also make it an ideal destination for weddings. The Thai people are known for their graciousness and hospitality, making guests feel welcome and ensuring a memorable experience for everyone involved.
It is a culturally rich destination that adds a unique and meaningful touch to a wedding celebration. Couples can incorporate local traditions and customs into their Phuket wedding ceremony, such as the water blessing ceremony or releasing lanterns into the sky, making the celebration even more special and memorable.
Phuket offers a wide range of activities and attractions for guests, making it the perfect destination for a wedding celebration. From relaxing on the beaches to exploring the local markets and enjoying the vibrant nightlife, guests will be entertained and captivated throughout their stay.
Ultimately, Phuket's stunning natural beauty, diverse range of venues, rich culture, and warm hospitality make it the ultimate wedding destination and a dream for any Phuket wedding planner.
Choosing The Perfect Venue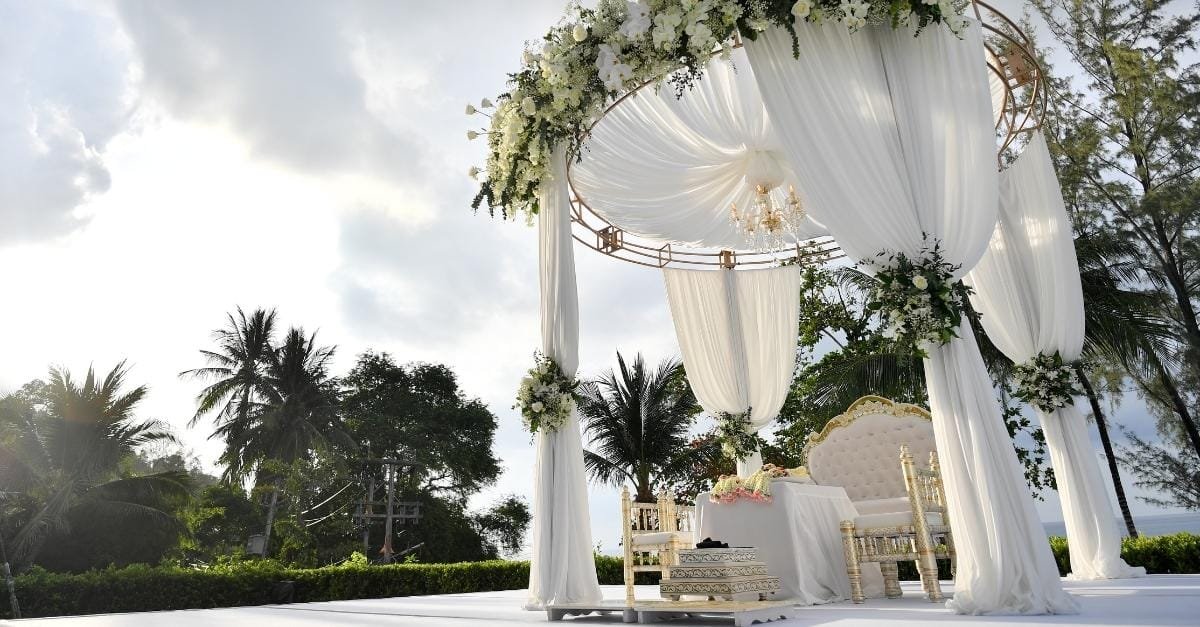 Choosing the perfect Phuket wedding resort is crucial to making your special day unforgettable, and Phuket offers a wide variety of options to fit every couple's preferences and budget. When choosing a venue, it is important to consider factors such as the number of guests, the style and theme of the wedding, and the desired level of privacy.
One of the most popular wedding venues in Phuket are the beachfront resorts, offering stunning views of the Andaman Sea and the opportunity to exchange vows on the soft sandy beaches. Hyatt Regency Phuket Resort is one of the finest beachfront resorts on the island, with luxurious wedding venues complemented by stunning ocean views and exceptional amenities.
Still, there is a myriad of options to choose from for your once-in-a-lifetime experience in Phuket, some of which includes:
For couples looking for a more traditional Thai wedding experience, Phuket's many temples and shrines offer a unique and culturally rich setting. These venues often feature intricate Thai architecture, vibrant colours, and ornate decorations that create a truly authentic Thai wedding experience.
For couples seeking a more intimate and private setting for a Wedding in Phuket resort, the island also offers many secluded hotels and private estates that can be rented for a wedding celebration. These venues offer complete privacy and flexibility, allowing couples to design a wedding ceremony and reception that is completely unique and personalised to their taste.
Phuket offers a diverse range of wedding venues for Phuket wedding planners to suit every couple's preferences and budget, from beachfront resorts to traditional Thai temples and private villas. With Hyatt Regency Phuket Resort's exceptional wedding venue and services, couples can be assured of an unforgettable wedding experience that will be cherished for a lifetime at this luxury Phuket hotel.
Phuket Wedding Planner: Making it Happen
Planning a wedding in Phuket can be an exciting and memorable experience, but it also requires careful planning and attention to detail. Here, we provide you with some tips and insights into how to plan a successful wedding celebration in Phuket:
The first step in planning a wedding in Phuket is to ensure that all legal requirements are met. Couples are advised to consult with a local wedding planner or embassy to obtain the necessary documents and permits.
Once the legal requirements are met, couples can start exploring the various vendors and services available in Phuket. From florists and photographers to catering and entertainment, Phuket offers a wide range of options to suit different tastes and budgets.
When it comes to choosing a wedding venue in Phuket, couples should consider factors such as the number of guests, the wedding theme, and the budget.
Hyatt's luxurious wedding venue, with stunning ocean views and world-class amenities, is a popular choice for couples seeking a dreamy wedding experience. Additionally, our wedding planning services also offer personalised assistance to couples throughout the planning process, including venue selection, vendor coordination, and menu planning. This ensures that couples can enjoy a stress-free and enjoyable wedding planning experience.
Enjoying the Wedding Celebration
Phuket is not only a great destination for weddings, but it also offers a range of activities and experiences for couples and guests to enjoy during their stay.
One of the best ways to make the most of your wedding celebration is to plan activities for your guests. Phuket offers a range of options, such as island hopping, elephant trekking, and snorkelling, that can keep guests entertained and engaged throughout their stay.
For couples looking to unwind and relax after the wedding, Phuket also offers a range of options, such as spa treatments, yoga classes, and meditation retreats. This can help couples to rejuvenate and reconnect with each other in a peaceful and tranquil environment.
Hyatt's hospitality services offer luxurious accommodations, exclusive dining experiences, and personalised services to make your celebration unforgettable. From private candlelit dinners on the beach to bespoke spa treatments, Hyatt's team of experts will ensure that every aspect of your celebration is tailored to your needs and preferences.
Create your unforgettable wedding at the Pearl of the Andaman Sea with us.
See our wedding packages: www.experiencehyattphuket.com/phuket-wedding-packages/
Visit our website or contact us today to find out more.
Tel: +66 7623 1234
Fax: +66 76 231 233Email: phuket.regency@hyatt.com