Scuba diving is one of the most unforgettable and magical experiences you can have while on holiday. If you want to get into the water while visiting Thailand, then diving resorts in Phuket present the perfect opportunity!
In this article, we will share 'must-know tips' on Phuket diving season, where to go, and what to do. If you are considering scuba diving in Phuket, you will not be disappointed, as it is one of the most remarkable experiences you will ever have. This guide will help you plan your Phuket diving trip for the journey of a lifetime that you will not forget. We will answer some of the key questions you might have and help you with the information you need to have the best Phuket experience.
In comparison to some other diving destinations around the world, Phuket has the added benefit for travellers of having many offerings and things to do on your trip on dive-free days. This makes Phuket a perfect destination for everyone looking for a location for their diving holiday; with a magical blend of options for diving, exploration, relaxation, nightlife, and shopping, it is truly a place that offers something for everybody.
Phuket Diving Season: The Best Time of Year to Visit
Phuket weather is generally hot and humid throughout most of the year, as usual for a tropical climate. The island has two rather distinct seasons; the wet season is usually from May through to December, with the heaviest rainfall from June through to October. However, it is somewhat rare to rain all day, and the typical pattern is a refreshing two-hour rainstorm towards the end of the day. The hot season is usually from January to April, and it is also the peak Phuket diving season, as it presents the most reliable weather. However, even though this is a dry season, it can still rain sometimes. The peak tourist season occurs from November through to April, with December and January being the most popular months.
If you would like to visit the island during the mentioned peak season, we recommend booking your diving resort in Phuket in advance, as accommodation typically gets booked up and rates are less competitive than other times of the year.
The Finest Phuket Diving Locations
There are some key locations to consider for the best scuba diving in Phuket, and the island has various incredible dive sites. Whether you are looking for a diving spot near a majestic beach or a more remote, exotic island getaway, a selection of boat trips is ready to take you there.
Boat trips are usually scheduled daily, conveniently dropping visitors from one place to another. In the below summary, you will find out the best areas for Phuket diving and how to indulge in this unique activity in the Andaman Sea.
Phi Phi Islands and Raya Islands
Trips run daily, taking divers from Phuket to Phi Phi Island and the Raya Islands throughout the year.
Phi Phi offers experiences for both beginners and seasoned divers. With beautiful scenery to explore, such as the King Cruiser wreck, a ferry that sank in 1997, which is located nearby the Anemone Reef, and the exhilarating diving area at Shark Point, which is named after the leopard sharks who reside at the bottom of the ocean. The most well-regarded Phuket diving experiences can be found at the Phi Phi Islands.
For a premium scuba diving experience with views of the largest fish, we recommend taking a dive voyage to the Andaman Sea's Similan and Surin Islands. However, in February and March, currents can occur originating from the open ocean and bringing 'cold water' to the area. A benefit of the cold currents is that they also bring manta rays and whale sharks to the vicinity for divers to admire.
The West Coast Beaches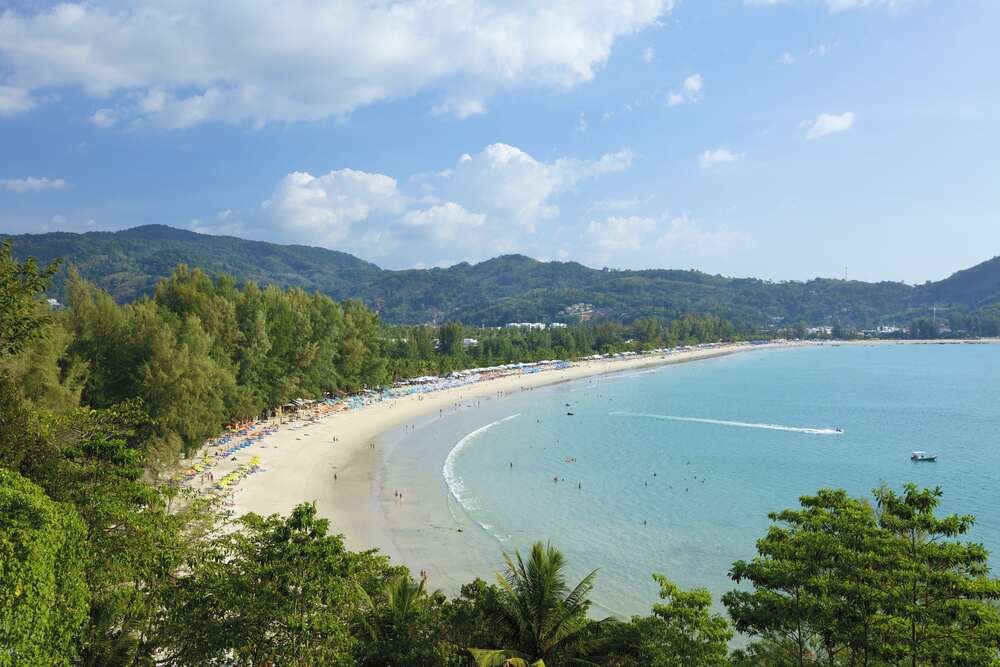 Some of the most beautiful beaches in the world can be found on the west coast of Phuket island. The best time to visit is during the dry and warm season, which runs from November through to May, when the water is serene and can be truly enjoyed. Every beach offers an elegant and unique experience. Patong Beach is also home to Phuket's nightlife hot spots; in contrast, quieter beaches such as Nai Yang and Nai Harn offer a calm space away from the bars and parties. Others provide a balance of things to do and peaceful spots, such as Kamala and Karon Beaches, with places for relaxation while still having plenty of amenities. Karon beach is one of the best spots for Phuket diving for beginners.
The surrounding coral points around Phuket island are some of the world's finest and feature more than 100 reef fish species and over 200 species of hard corals in the sub-aquatic ecosystem.Hundreds of species of fish can be found in the seas of Thailand, such as manta rays and the imposing whale shark. The best season to see whale sharks is from March to May, particularly at Hin Daeng and Richelieu Rock dive sites. In summary, the diversity of reef fish in the Andaman Sea is truly astounding, which adds significantly to the majestic experience of Phuket diving.
Overall, Phuket is an unbeatable destination for scuba divers throughout the year. Each time of the year offers a different experience for divers. The best season for most divers to come to the island aligns with the tourist season of Thailand, particularly from January to April. It is a special island for divers with wonderful sites in Phuket, including the King Cruiser Wreck, Shark Point, and Anemone Reef. Scuba divers can usually enjoy reliable visibility all year round. Now is the time to plan a memorable trip to Thailand and explore Phuket's deep waters, but do not forget to book your diving resort in Phuket.
Hyatt Regency Phuket Resort
Hyatt Regency Phuket Resort is situated on a cascading hillside at Kamala Bay between Kamala and Patong beaches, overlooking the Andaman Sea. We offer a unique coastal escape experience that you cannot find anywhere else. Apart from the luxurious rooms, amenities, and facilities, we also offer experiential dining at renovated venues with Thai, Indian, Japanese & International cuisines for the whole family to enjoy, one of the biggest infinity pools in Phuket, various curated experiences, and the best rooms to sleep-in after a long day of diving.
Visit our website or contact us today to find out more.
Tel: +66 7623 1234
Fax: +66 76 231 233
Email: phuket.regency@hyatt.com
For Thai travellers, check out our 'We Travel Together' promotion.
We Travel Together at Hyatt Regency Phuket Resort
In Phase 4 of We Travel Together, Hyatt offers a special price for your vacation experience. Book now & Indulge in various benefits, including:
Free Breakfast to your door
20% Discount on Bespoke Spa Journey
Collection your points with World of Hyatt
Free meals for children 12 years old or under
Our offer is available from 1st July until 23rd October 2022.
Get more benefits when booking for 2 nights or more:
Free! 2 glasses of cocktail per room, per booking
Upgraded Family Room and Regency Suite per room, per booking
Book Now
📧 reservations.phuhr@hyatt.com
📞(+66) 76 231 234