Phuket, Thailand, is undoubtedly one of the most beloved beach destinations in Asia. Its coastline is the essence of every escapist's fantasies, with vast expanses of white sandy beaches interspersed with stunning rock formations. As a result, it is really no wonder that Phuket island hopping is among the favourite activities on everyone's Phuket agenda.
Considering that there are 32 islands around Phuket, the main issue is that you are overwhelmed in terms of wonderful choices. The main challenge is deciding which island to visit based on your time constraints.
It is indeed a challenge to tour all of Phuket's beautiful tropical islands, and it would take many visits to do so. So, to help you narrow down your options, we have compiled a list of must-see islands. This article will share with you the must-visit locations for you to plan your Phuket island hopping journey, including destinations such as Phi Phi Island and James Bond Island, among others.
Koh Phi Phi (Phi Phi Islands)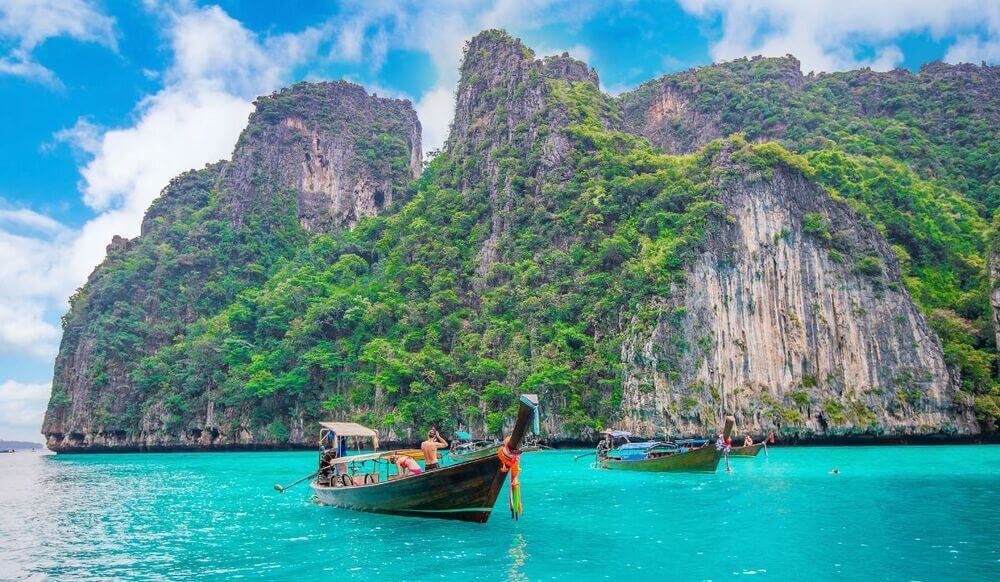 The Phi Phi Islands are located in the Andaman Sea, 42 kilometres from Amphoe Mueang, and are part of the Hat Noppharat Thara – Phi Phi Islands National Park. This park includes two large islands, Koh Phi Phi Don and Koh Phi Phi Le, as well as four smaller nearby islands: Koh Yung, Koh Mai Phai, Koh Pida Nok, and Koh Pida Nai.
Ko Phi Phi is well known for its liveliness and excitement as a party island and hedonistic paradise, attracting young, trendy, and those full of energy. The contrasting coastlines of Phi Phi Don and Phi Phi Leh offer vastly different Phuket travel experiences.
Koh Phi Phi Don has a lively nightlife, with Tonsai Beach, which has hundreds of beach bars and restaurants, and Tonsai Village, with its maze of stores, bars, and restaurants, both offering a bustling nightlife. Smaller beaches on the island are ideal for those looking for a family resort in Phuket, honeymooners, and travellers seeking a luxury hideaway.
The legend of the ultimate remote island beach, Phi Phi Le, was portrayed in the Hollywood movie "The Beach," with Maya Bay serving as a perfect example of the breathtaking beauty of these islands. This bay features a clear turquoise sea surrounded by high limestone cliffs and a pristine white sandy beach.
Phang Nga Bay (James Bond Island, Hong Island, and Koh Panyi)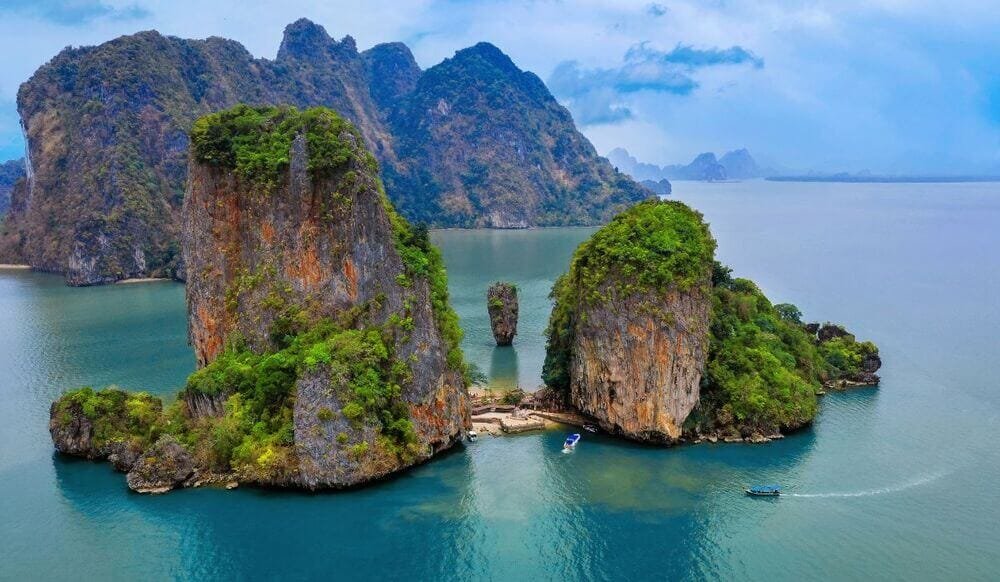 Phang Nga Bay, located to the north of Phuket, is well known for James Bond Island, also known as Koh Ta-Pu (Nail Island) by the locals. It got its moniker after its appearance as a backdrop in the James Bond film "The Man with the Golden Gun."
The stone pinnacle is over 20 meters tall but only 4 – 8 meters in circumference. It is now officially protected as a national park, which forbids boats from getting too close, so visitors can only observe it from a distance.
Hong Island is another wonderful island to visit in this area. It is unspoiled and natural, with a contained lagoon set among a spectacular cliff-lined curve of the island's waters, providing tourists with a breathtaking view.
Do not head back to the mainland without making a stop on Koh Panyi. It is a small Muslim seaside community constructed on stilts, ideal for sightseeing and a seafood meal overlooking the sea. The settlement also offers one of the best views of the Andaman Sea.
The locals are proud of their cultural roots and would gladly assist you in better understanding and appreciating rural life. Visit its remarkable floating football pitch, which was inspired by the locals' passion for the beautiful game.
Similan Islands
The Similan Islands, located slightly off the coast of Phuket, are one of the Andaman Sea's hidden gems. The sea around the islands is warm and crystal clear. It also serves as a haven for a vast range of uncommon and endangered aquatic creatures, which hide behind massive rocks that have fallen into the water. As a result, the islands are highly regarded as one of the most exciting diving destinations in the world.
Koh Racha
Koh Racha (Racha Island), like Similan Island, is renowned as an outstanding snorkelling and diving spot for both novice and expert divers. However, jet skiing and parasailing are strictly prohibited here, which may make it less appealing than other locations if you are yearning for these particular activities.
The positive aspect of this decision is, of course, that visitors can still enjoy the island's pristine nature and vast white-sand crescent bay without encountering too many fellow tourists.
Ko He (Coral Island)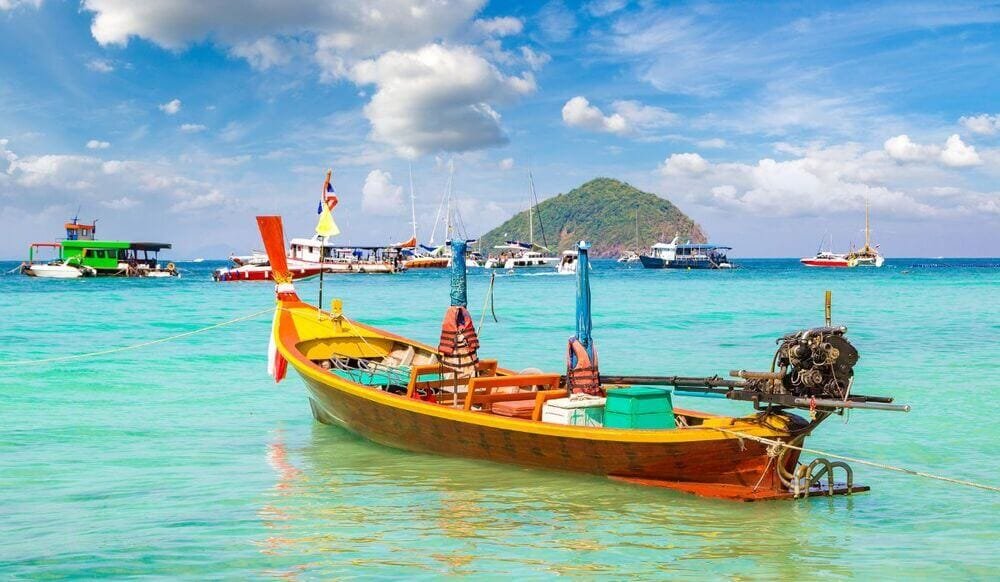 Coral Island is famous for its rainbow coral reefs, filled with rare tropical species. Every intrepid marine adventurer should make the trek down to discover the vast playground of species and coral. Water activities such as banana boat rides, paragliding, and sea walking are also on offer here.
Long Beach and Banana Beach, the island's two major beaches, benefit from a generous spread of white sand that is ideal for a day of sunbathing and relaxing.
Koh Rang Yai (Rang Yai Island)
Rang Yai Island is a charming private island located 5 kilometres east of Laem Hin Pier. Rang Yai is an ideal spot to spend the day if you seek to experience a touch of the Robinson Crusoe way of life. Swimming, dining, and perhaps also exploring a pearl farm are all available options.
The islands mentioned above are just a few of the many options available for exploring Phuket. There are countless more travel destinations to discover during your time on this world-renowned island. Additionally, when planning your Phuket island hopping escapade, it is recommended to book an organized tour which can be arranged through your 5-star hotel in Phuket, since this makes the process much less complicated and it represents better value for money.
Explore The Majestic Kamala Bay With Hyatt Regency Phuket Resort
Hyatt Regency Phuket Resort, located on a forested hillside at Kamala Bay, offers panoramic vistas of the Andaman Sea, completed by 201 luxurious rooms and suites. The resort offers direct access to Kamala Beach with water activities, sports, a secret beach getaway, and more things to do in the surrounding bay.
Escape into a world of magnificent lifestyle, ranging from marine discovery, gourmet dining restaurants, an infinity pool, a bespoke spa journey, a secret beach getaway, and many more. Rest assured that you will meet with an unforgettable vacation.
Visit our website or contact us today to find out more.
Tel: +66 7623 1234
Fax: +66 76 231 233
Email: phuket.regency@hyatt.com