Travelling with your family should be a fantastic adventure. Especially if you stay at a luxury hotel in Phuket, there should be as much attention to your kids as there is to you. However, not everyone will want to do the same thing all the time, but Phuket's best hotels for families would have already considered this particular factor to create fun as well as relaxing experiences for everyone in the family.
Hyatt Regency Phuket Resort is dedicated to every guest, young and old, and we know that your family will enjoy every moment with us. Here, we would like to share some of the experiences you should expect from Phuket's best hotels for families.
Plenty of Room For Everyone
Whether you are travelling with a toddler or a teenager, one child or three, a family-friendly luxury hotel in Phuket should have accommodations that suit your needs. This could be a cot in a double room, or it could be a two-bedroom suite. Perhaps your kids are older, and they can have a room of their own, but you may want them to connect or at least be next door. You may want a roomy tub for bath time, not just a shower. And, of course, having a refrigerator to keep snacks on hand is always a good thing for kids of all ages, as well as access to laundry facilities or services.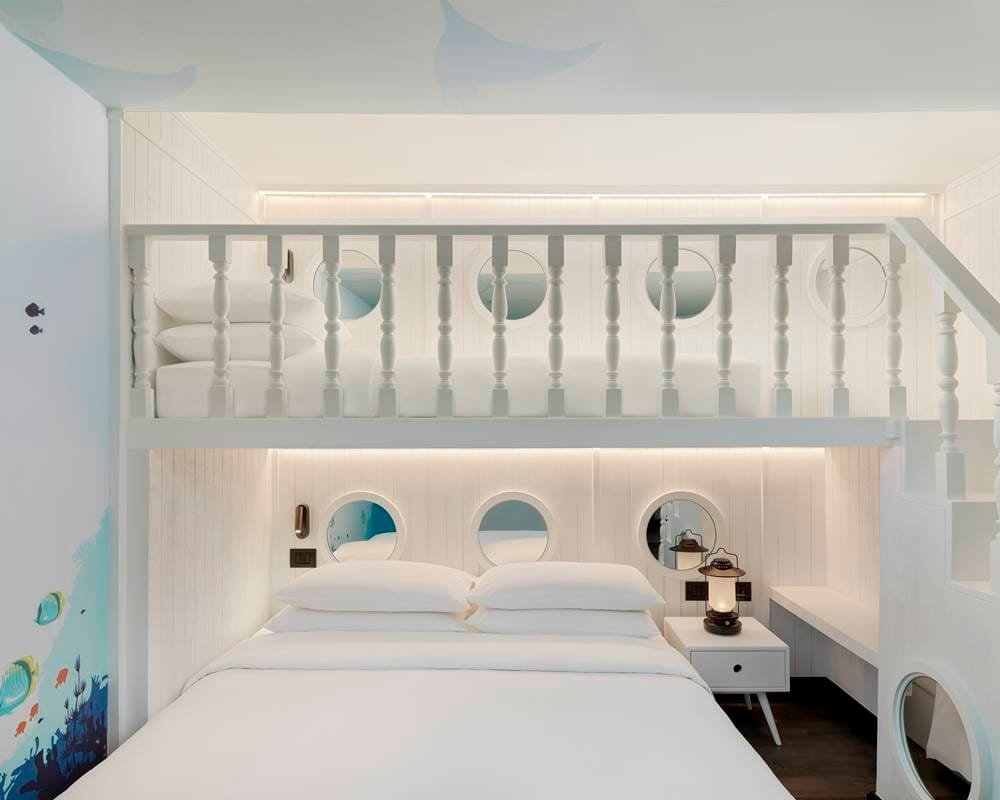 Hyatt Regency can accommodate families of all sizes. We can add an extra bed to most rooms if your little one is heading to the island with you. If you are travelling with older kids that you still want to keep an eye on, we have a two-bedroom Regency Suite with a separate living area as well as a roomy private terrace with a daybed for you to make yourselves at home. For that added family touch, we also offer a two-bedroom Family Room, where the second bedroom can be configured with bunk beds.
Kid-Friendliness & Parental Peace of Mind
Having kid-friendly amenities is as important as having a waterslide or play zone. Parents should be able to fully enjoy their beachfront Phuket holiday, knowing that their children are safe. This means that your family resort in Phuket should have kids' pools and play zones that are well attended or easily accessible by parents and guardians. Also, a truly family-friendly resort should have childcare services available for when parents want, say, a night out or a jet-ski adventure without having to worry about their babies.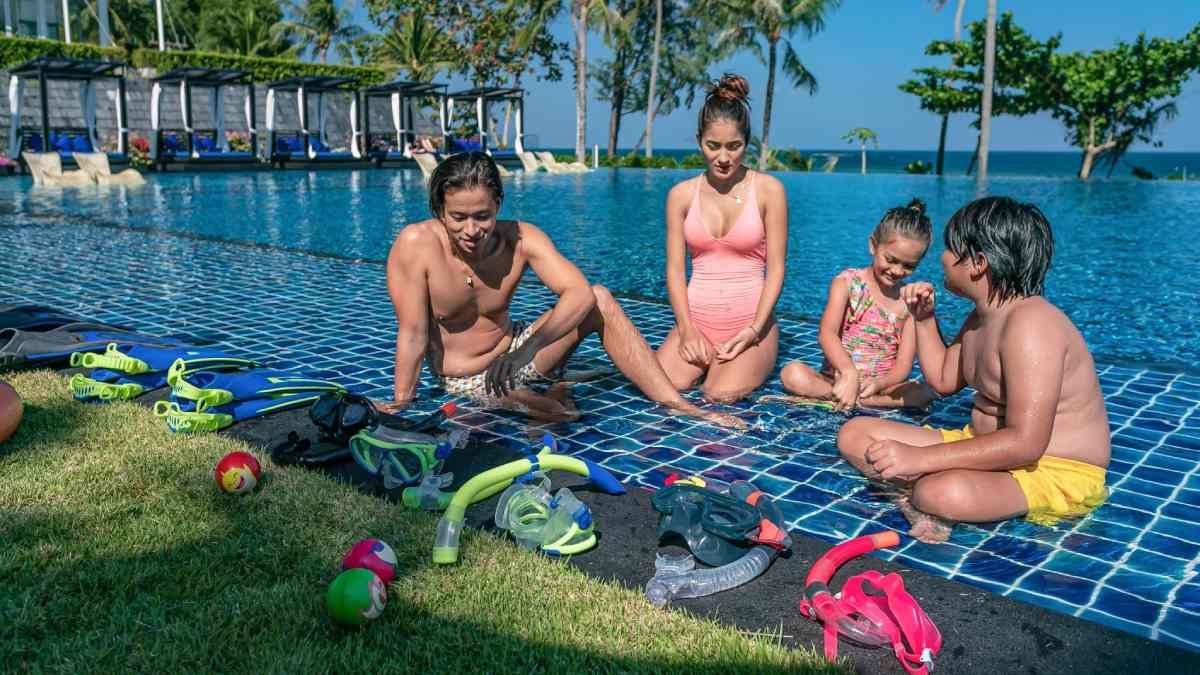 At Hyatt Regency, we have one of the largest infinity pools in Phuket, at over 1,800 sqm. But we want to make sure that you can keep track of your children as they have a splash, so we have separate a kids' pool and wading areas next to the pool house. This way, you can stretch out in comfort or enjoy a snack or beverage as you watch over your children. We also offer babysitting services so that you can head off for some alone time with the peace of mind that your children are being well taken care of.
Activities For All Age
Having a kids' pool and babysitting services are quite ensuring, but family resorts in Phuket that have kids' clubs or more are even better. Kids' clubs in Phuket usually offer supervised fun so that both parents and kids can enjoy their holidays. Along with toys and games, many clubs will also provide a full schedule of activities, from arts and crafts to sports, that should engage the interests of most kids.
Camp Hyatt is a kids club in Phuket that sits right by the pool and provides a wide range of activities for kids of all ages. The centrepiece is the Halo Cubic treehouse-like play system that will keep kids active, as well as toys and games for all ages. Our schedule is also filled with activities that your kids can enjoy with their friends and that you all can participate in for some family bonding sessions. Additionally, little ones from age 4 to 12 years old can spend time learning origami or creating their own postcards, while teens can enjoy a fun Muay Thai class. Then the whole family can get together for a sunset hike or mocktail class.
Hyatt Regency Resort Phuket – A Seaside Playground For The Whole Family
As we have mentioned previously, Hyatt Regency Resort Phuket is an ideal destination for family holidays in Phuket. Not only do we have family-friendly accommodations and services and our amazing Camp Hyatt for kids, but there is also our entertainment lounge by the pool where families can spend time together playing board games over a snack or hanging out in comfort while making new friends. In addition, our menus have kid-friendly options, and our room service menu is available 24 hours a day, seven days a week. Also, our staff is always open to requests to make your stay even better. Plus, our many curated experiences, such as our Secret Beach Escapes or our Shore Walks, can be tailored for your family.
We invite you to discover all the fun and relaxation for your family at Hyatt Regency Resort Phuket by visiting our website or contacting us today.
We Travel Together at Hyatt Regency Phuket Resort
In Phase 4 of We Travel Together, Hyatt offers a special price for your vacation experience. Book now & Indulge in various benefits, including:
Free Breakfast to your door
20% Discount on Bespoke Spa Journey
Collection your points with World of Hyatt
Free meals for children 12 years old or under
Our offer is available from 1st July until 23rd October 2022.
Get more benefits when booking for 2 nights or more:
Free! 2 glasses of cocktail per room, per booking
Upgraded Family Room and Regency Suite per room, per booking
Book Now
📧 reservations.phuhr@hyatt.com
📞(+66) 76 231 234