Phuket is internationally known as an ideal island destination, attracting visitors from across the country, especially with the 'We Travel Together' program extending to Phase 4. Beyond the sun, sand, and sea, there are many other facets to this resort town, such as fantastic food. Sitting in the Andaman Sea and being almost a stone's throw from the Gulf of Thailand, diners can look forward to fresh seafood for practically every meal. To enhance visitors' dining experiences, the island also offers many restaurants with gorgeous views of the sea to enjoy as you eat so that finding a sea view restaurant in Kamala, Karon, or anywhere along the coast in Phuket is a breeze.
And you can enjoy your seafood or other meats prepared in so many different ways in Phuket. A constant favourite is, nevertheless, Japanese cuisine. You can find many Japanese restaurants in Phuket that will satisfy your hunger for delicious food while providing a feast for your senses, such as Mizu, a Teppanyaki Restaurant at Hyatt Regency Resort Phuket.
Japanese Food is a Favourite For All
Japanese food is a form of art within itself; apart from the good-looking dishes, the taste is uniquely delicious. If you are looking for a Japanese restaurant in Phuket, you will discover that there are so many to choose from. You can find "full-service" Japanese menus that offer everything from edamame to sushi, sashimi and tempura to various noodle and rice dishes and more. Or you could opt for different dining styles, such as the casual pub-style izakayas or the more formal fine-dining omakase. Then there are restaurants that may focus on specific dishes, like ramen shops and sushi bars, that also may offer other types of dishes but may be more limited in choice.
For those who like a little performance and flair with their Japanese meal, there is teppanyaki. With a grill as a stage, teppanyaki can be more than just a few plates of food. If you are hungry for such a teppanyaki restaurant in Phuket, there is a wide range of choices, including Mizu at the Hyatt Regency.
Teppanyaki: A Complete Dining Experience
While many types of Japanese food can be said to be thousands of years old, teppanyaki is actually quite a young addition to Japan's culinary pantheon. The word "teppanyaki" is actually made from two different words: "teppan", which is the Japanese term for a flat metal grill, and "yaki", which is Japanese for the cooking techniques of grilling or pan-frying. And even though it is generally agreed that teppanyaki was popularized around 1945 after World War II, there is no confirmed "origin story", so to speak.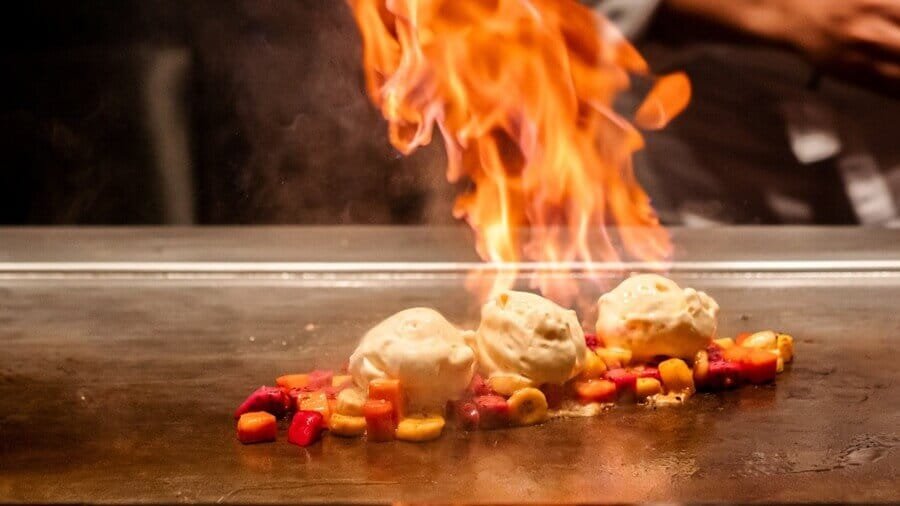 The consensus seems to be that an entrepreneurial okonomiyaki (grilled pancake) vendor in Kobe tried to satisfy an American soldier's desire for meat by substituting a steak for his usual pancake. From there, he went on to attract more Americans and foreigners by creating a show out of preparing the meal. Thus began the history of teppanyaki that continues to the present.
Today, many teppanyaki chefs are rigorously trained to give choreographed performances that end in an array of dishes that delight the eyes, ears, and, of course, your taste buds. It begins with utensils preparation like knives and spatulas being tossed, flipped, and clanged as ingredients are sliced and diced. Oils and seasonings sizzle on the hot teppan grill surface as the chef goes about flamboyantly preparing the meats, vegetables, rice, or noodles. Eggs would be split mid-air, shrimp tails could fly into chefs' hats, or a little volcano of fire could be made from onion rings – it is all part of the meal and done with skill and aplomb. There is often an interactive portion of the performance, as guests tell chefs their preferences as they cook. And there could be moments that end with a piece of shrimp or steak expertly flipped into a diner's mouth!
Find Your Japanese Teppanyaki in Phuket at Hyatt Regency
A Teppanyaki meal in Phuket can be a delight for both the young and old alike, ending in a delicious grilled meal. If you are looking for a superbly theatrical and tasty teppanyaki restaurant in Phuket, Hyatt Regency Phuket Resort offers Mizu, a cosy yet elegant Teppanyaki restaurant. The chefs at Mizu are teppanyaki experts who perform with the highest quality ingredients freshly picked for diners every night. Set menus offer three-act meals of appetizers, main dishes, and desserts.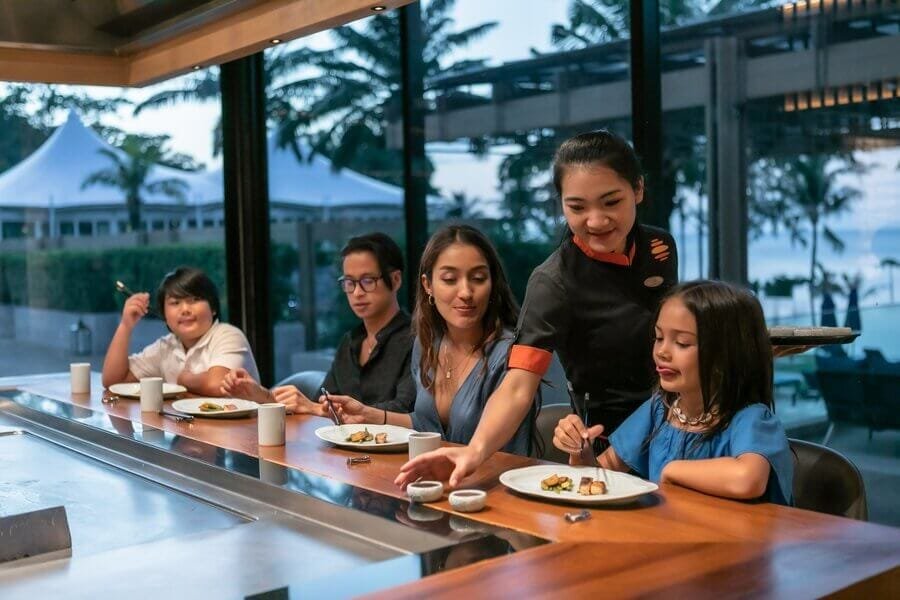 You could choose to start with seared scallops and sea bass, followed by striploin and tiger prawn fried rice. Or there's octopus and salmon, with a tenderloin main and crab fried rice. All are accompanied by deftly prepared sides of miso soup and seasonal vegetables. And speaking of vegetables, teppanyaki is not just for meat lovers – Mizu offers an equally delightful vegetarian menu with mushroom and asparagus to start, followed by grilled marinated tofu and garlic fried rice. Even the desserts are fire-inspired, with vanilla ice cream flambé or caramelized pineapples.
So, for a luxury teppanyaki dining experience in Phuket, Mizu at the Hyatt Regency on Kamala Beach is something you will not want to miss.
We Travel Together at Hyatt Regency Phuket Resort
In Phase 4 of We Travel Together, Hyatt offers a special price for your vacation experience. Book now & Indulge in various benefits, including:
Free Breakfast to your door
20% Discount on Bespoke Spa Journey
Collection your points with World of Hyatt
Free meals for children 12 years old or under
Our offer is available from 1st July until 23rd October 2022.
Get more benefits when booking for 2 nights or more:
Free! 2 glasses of cocktail per room, per booking
Upgraded Family Room and Regency Suite per room, per booking
Book Now
📧 reservations.phuhr@hyatt.com
📞(+66) 76 231 234
Hyatt Regency Phuket Resort
Hyatt Regency Phuket Resort is situated on a cascading hillside at Kamala Bay between Kamala and Patong beaches, overlooking the Andaman Sea. We offer a unique coastal escape experience you cannot find anywhere else. Apart from the luxurious rooms, amenities, and facilities, we also offer experiential dining at renovated venues with Thai, Indian, Japanese & International cuisines for the whole family to enjoy, one of the biggest infinity pools in Phuket, and many more curated experiences perfect for your vacation.
Contact us
16/12 Moo. 6, Tambon Kamala, Phuket, Phuket, Thailand, 83150
Tel: +66 7623 1234
Fax: +66 76 231 233